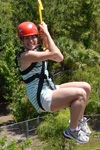 Gatorland and Zip-Line Fun
Price from $ 117.30
Come along for an afternoon of fun and adventure to Gatorland in Orlando, where you'll learn more about the number one resident of Florida - the alligator. At Gatorland, you'll also get the chance to zip off on an exciting outdoor adventure with the all-new Screamin' Gator Zip Line.

Highlights:
- Visit the fun and amazing Gatorland
- Experience Floridas #1 inhabitant up close
- Try the new Screamin' Gator Zip-Line
- Stop by the petting zoo
- Watch the Gator Wrestling Show
- Enjoy free hotel transfer

Visit Gatorland and Zip-Line over the Alligators
Gatorland is home to over 4,000 alligators, as well as snakes and other exotic animals. There are many exhibits to see, e.g. the Gator Jumparoo Show, where you can see some of the largest alligators in the world actually jump four to five feet out of the water to retrieve food.

You can also see the Alligator Wrestling Show. Gator wranglers catch an alligator by hand and climb onto the snapping animal's back to point out survival features to the audience.

At Gatorland, you can also try the new and exciting Screamin' Gator Zip Line. Your journey will take you along 1,200 feet of high flying, heart pounding adventure from some of the finest zip-line towers in the world.

Soar through the air and defy gravity over some of the theme park's star attractions, including Cuban and Nile crocodiles, before heading over the Alligator Breeding Marsh, complete with one hundred and thirty giant alligators watching from below.

If you don't wish you try the zip-line, then you can also choose our Ticket only option to Gatorland or tickets to Gatorland including an Airboat Ride!

How do I get my tickets?
Shortly after your booking is complete your e-ticket will be sent directly to your email, just print it out and bring it with you on your tour.

Where does the tour start?
The tour includes pick-up from all hotels in the tourist area of Orlando, Kissimmee, Lake Buena Vista and Disney.
Where does the tour end?
Your tour ends back at your hotel.

How long does the tour last?
The tour lasts approx. 4 hours.
What should I wear?
Participants must wear closed toe shoes. Skirts, dresses, and short shorts are discouraged.
Are there any height or weight requirements?
You must be at least 37" (94 cm) tall, weigh no more than 275 lbs. (124 kg), and must fit safely into the zip-line harnesses in order to participate in this tour. You may be required to weigh in before your turn on the zip-line.
Are there children's tickets?
Yes, children's tickets are available for children between age 3-12 years. Children under age 3 are free when accompanied by a paying adult.
Important information:

- For the safety of the animals and park guests below the zip-lines, cameras, cell phones, video equipment including GoPro cameras and other personal items may not be taken on your adventure.
- Secure lockers will be available for storing your belongings.
- Guests will be required to sign a release, liability waiver, and consent agreement prior to their launch. Minors under the age of 18 must have a liability waiver and consent agreement executed and signed by a parent or natural guardian.