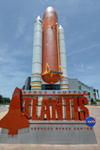 Space Pass with Transportation
Price from $ 227.50
Experience the best that the Kennedy Space Center has to offer in one day! Visit the Kennedy Space Center, see the Atlantis up close, have lunch with an astronaut, take a guided bus tour, and explore some of the areas not visited on the regular tours!

Highlights:
- Explore the Kennedy Space Center in style with your Space Pass
- Go on a guided 'Discover KSC' bus tour
- See areas not included on the regular bus tours
- Enjoy a lunch buffet with an astronaut
- View the Space Shuttle Atlantis up close
- Enjoy round-trip transfer

The Ultimate Experience for Space Enthusiasts
Start your day off by visiting the world's most comprehensive attraction devoted to the space shuttle. The Kennedy Space Center Visitor Complex's new Space Shuttle Atlantis brings you up and close with the priceless Atlantis spacecraft as only astronauts have seen it before.

Try the more than 60 interactive, touch-screen experiences and high-tech simulators and test your skills as an astronaut. You may also choose to stroll by a scale-size space shuttle, touch a piece of moon rock or try space ice cream?

You can also watch a movie at the IMAX movie theater or ride the Shuttle Launch Experience before it's time for your lunch.

At lunch, you'll get a chance to sit down to a buffet lunch and presentation from a real-life astronaut. This is a great opportunity for photos and autographs.

After lunch, it is time to ride the Discover KSC Bus Tour.

This two-hour, fully guided bus tour within Kennedy takes you close by the former shuttle launch pads. If you really want to experience Kennedy, yet don't necessarily wish to walk around and read the exhibits yourself, then this is your opportunity.

On some occasions, the bus tour stops in the Vehicle Assembly Buildings for guests to take photos outside. This is definitely a tour highlight and something not to be missed. This extra stop is only available for a limited time and we will not be told by NASA when this special stop will end!

This tour shows you areas not seen on the regular bus tours. The bus tour ends at the Saturn V Center where guests get to walk under the Saturn V rocket and touch a piece of moon rock.

Have you rented a car and don't need transportation to and from the Kennedy Space Center, then you might be more interested in booking the Space Pass.

How do I get my tickets?
Soon after your booking is complete your e-ticket will be sent directly to your email. Please print it out and bring it to the Kennedy Space Center.

Where does the tour start?
The tour includes pick-up from selected hotels and meeting points in Orlando.

Click here to see the pick-up times for each pick-up location and choose the one most convenient for you.

How long does the tour last?
The tour lasts approximately 11 hours.

What time is lunch?
Your lunch will be at 12 PM.

What time is my bus tour?
Your bus tour will be anywhere from 1:30 PM to 2:30 PM.
Are there children's tickets?
Yes, children's tickets are available for children between ages three to eleven. Children under age three are free when accompanied by a paying adult.