Transportation
Here you can book airport transfer tickets for Orlando International Airport! It is very easy to book, and it's a very convenient way to have your airport transfer sorted to and from your hotel i Orlando and Orlando International Airport before you leave home!
Tickets to Transportation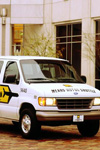 Orlando Airport Transfer
Enjoy our prompt, reliable and courteous airport transfer service and avoid the hassle of flagging down a cab or trying to figure out a foreign public transportation system. Our service is available 24 hours a day, 7 days a week. Book your transfer from home!